Every parent knows that it is important for kids to read. Strong reading skills are necessary for kids to realize their potential. It also helps them expand their views and learn about the world. However, with all the other forms of entertainment available to kids today, it can be difficult to get them to read. Here are some ideas for making reading a more central part of your child's routine.

Movies and TV Shows: Many movies and TV shows are based on books. If your child likes the show, encourage them to read the books. Explain to them that they will find stories and details in the books that aren't in the movie. If it is a series, once they see the first installment, you can have them read the next book and then let them watch the movie as a reward. Here's a great list of kids books that outshine their silver screen counterparts.
Let Them Be The "Big Kid" Volunteer opportunities can be a great way to get your child reading and helping others at the same time. Check your local library for story time groups where your child can read to younger children, or help implement a Book Buddy program at your child's school. You could even find a few younger kids in your neighborhood and start your own. This will help encourage responsibility, generosity and they will feel good helping other children. If your child is mature enough, consider letting them read to the elderly at your local nursing home. Many elderly people don't have many visitors, and it makes their day to see children.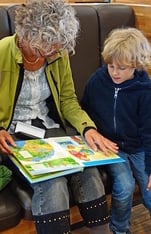 Go To Your Local Library or Bookstore: Take your child to your local library or bookstore and let them decide what they would like to read. You can suggest categories that you think they would enjoy, but leave the choice up to them as long as the book doesn't contain anything you deem inappropriate. Remember that magazines, graphic novels, and how-to books count as reading. If your child would rather read Seventeen or Game Informer than Treasure Island, let them. Encourage anything they want to read, because the key to instilling a lifelong love of reading is to make it enjoyable.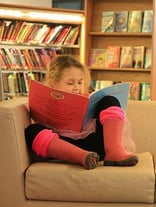 Use Technology to Your Advantage: Google gives anyone with an Internet connection access to virtually unlimited knowledge. Kids are naturally very curious, so when they ask you questions have them look up the answer. You can also let them read digital books. Some kids would rather not be seen carrying around a book, but would love to carry around a tablet. Many children's tablets and some for adults will let you set time limits for your child: you can give them a time limit for games but unlimited time for reading. Many also have subscription services that give you access to a wide assortment of children's books for a low monthly fee. If your kids are extra curious, try the 30-day trial at curious.com.  Or download a few of these 15 learning apps that feature reading.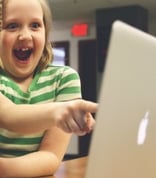 Pass it On: Encourage them to pass on books they have enjoyed to others. It is good to instill a sense of community and volunteerism in our children. Giving their used books to others and telling them why they enjoyed them is not only a great way to do something nice for someone else, it's also an opportunity for your child to develop oral storytelling skills, a crucial aspect of overall literacy. Maybe there is a Little Free Library in your area that you can frequent. None close by? Gather some neighbours, donate a dozen books each and build your own!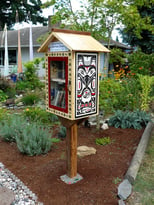 Create A Book Club: Read the same book as your child, and have "book club" discussions about it. It may not be your cup of tea, but it is well worth it to have opportunities to discuss books with your children. If their friends enjoy reading, suggest they start a book club together.
The most important thing you can do to get your child reading is to make it fun. If you do this, their love for reading will start early and stay with them for life.
Written by Max Gordon from Halifax Learning. With various locations in the city, Halifax Learning Centre offers many different programs to suit everybody's needs – it's more than just tutoring! For more information on programs like SpellRead, Momentum Math, French and more visit their website